One of the reasons why a marquee is such a great idea for a wedding is it allows a bride and groom a great chance to really personalise their special day.
A traditional white marquee is literally a 'blank canvas' for couples to make their wedding something unique and memorable. See these images from a wedding we did back in July in Ware, Hertfordshire. They show the use of ribbon to great effect; a simple idea, done relatively inexpensively but to great effect.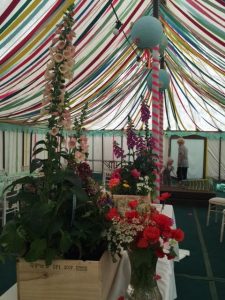 From 'shabby chic' and 'summer fete' to 'rustic autumn' there is a real movement towards brides, grooms and their families making their wedding an almost DIY, hand crafted event. Weddings have always had this element; choosing the flowers, catering, music, but often now with weddings in hotels and similar venues you are only able to choose from a limited range of options or suppliers. With a marquee you get to choose exactly what you want and how it looks and works on the day.
At BSW Marquees we can supply you with everything you need from pea lights, linings, carpets, tables and chairs; we can also recommend caterers, DJ's and flowers, but our interest is primarily providing you with a marquee. All our marquees are made by hand at our premises in Braintree, Essex. All our marquees are white canvas, supplied by our experienced team. Contact us today about hiring a marquee.